Oh happy day! I'm seriously jumping with excitement over here because it's finally here
—m

y first ever Favorite Things Summer Giveaway!

With summer just around the corner I've teamed up with several of my all time favorite businesses and artists to bring you an assortment of super fun goodies you are absolutely going to LOVE.

Before I jump into what is up for grabs in MY giveaway, you have to know about the 8 OTHER giveaways that are all happening right now. To see each gift up close, and to enter to win, visit each site to fill out the entry forms. It's possible you could win more than ONE! Can I get a PRAISE to that?!

When you visit each blog please take a look around. This is such an encouraging group of bloggers and I know you'll love following along with each one of them. These mamas (who all love Jesus!) are making a huge impact in the blogging world with their commitment to helping women know God more, serve their families well, and be encouraged on the journey. Plus, their giveaways are AMAZING, so make sure you enter to win their giveaways, too!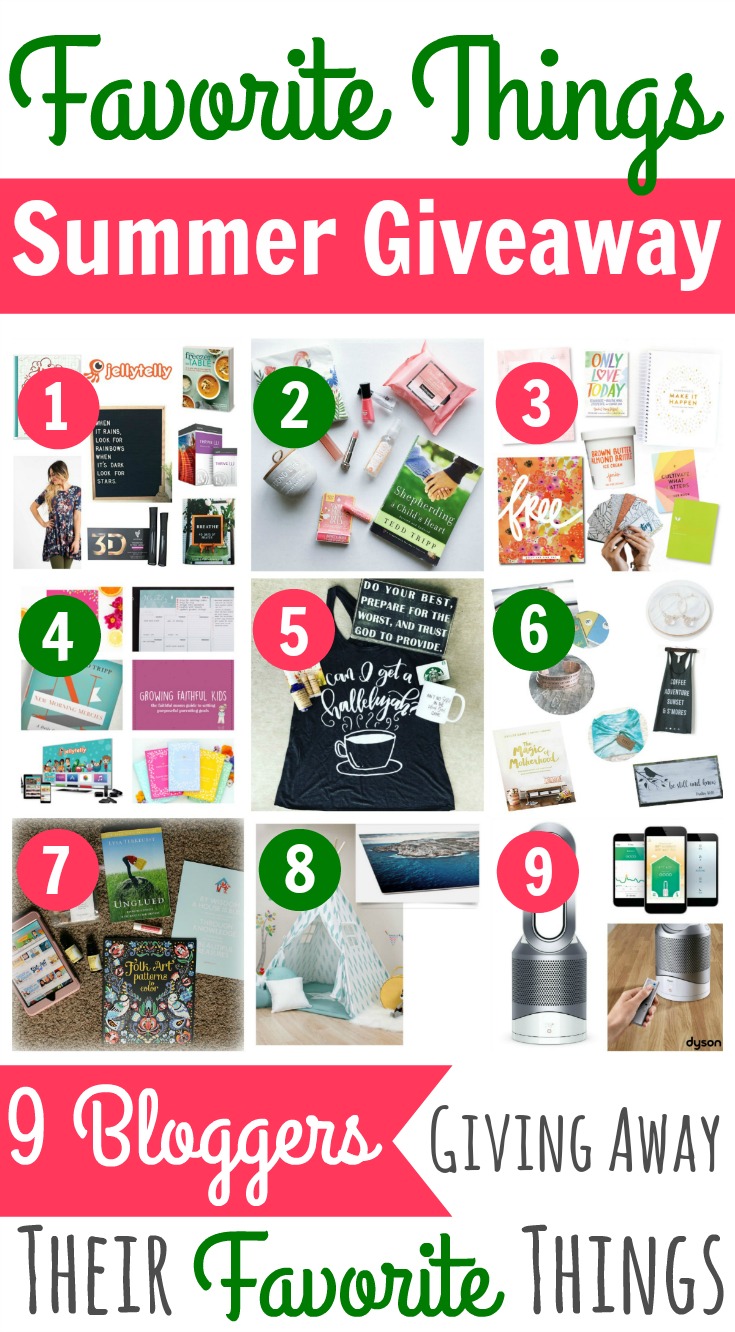 **Click any AND ALL of these links below to enter to win the incredible giveaways going on at each of these fabulous sites!**
1. Happy Home Fairy // 2. Ale & Tere // 3. The Littles and Me // 4. Erika Dawson – Faithful Moms // 5. Filled with the Word // 6. The Olive Tree Blog // 7. The Purposeful Mom // 8. Meaningful Mama // 9. Frugal Coupon Living
Without further ado, here is what is up for grabs in MY Favorite Summer Things Giveaway!
Three years ago, when I stumbled upon and read through Lara Casey's Book Make it Happen (affiliate link) and then purchased and worked through my first set of Powersheets, my life radically changed for the better as I was able to focus in on the things that truly matter. I love how they help you uncover purpose-filled goals and then make little by little grace-filled progress toward making what matters happen. If you are looking to create space for more intentional moments I promise you will fall in love with these. Everything in the Cultivate What Matters Shop is beautiful and purposeful and I could go on and on singing their praises. There are so many wonderful resources over on their website and I highly recommend checking it all out!
Oh goodness! The brand new Companion Goal Guide for Parents miiiiight be my favorite thing ever. The guide is meant to be used with your Powersheets and helps you set good grace-filled goals as a family. I love how it also includes spaces for seasonal bucket lists and traditions. Seriously, every family needs one of these. We are so excited to start working through ours!
What's not to love about stickers?! The oh so happy Cultivate What Matters Sticker Book has over 800 beautiful stickers to remind you of important dates and to stay focused on what matters most. I love how cheerful they make my Powersheets and planner.  I often find Bridgett trying to sneak a sticker or two as well. Haha!
If you've followed along for any period of time you'll know that I love putting words of encouragement and truth around our home. That's one of the reasons why I just adore this print from All Good Things Collective . I love their mission to provide beautiful tools that encourage an abundant life through community + the Word. Don't the colors of this print just make you think of summer?
The sweet gals over at All Good Things Collective also generously donated a set of Victory Cards for Mamas. Victory Cards are a set of 30 encouraging, action-based cards to help you choose praise over despair, purpose over wandering, and worship over worry. This pack was made with mamas in mind and they are not only gorgeously designed but oh so encouraging. I love how you can choose a card randomly or pick one that specifically relates to what you are walking through. These are a must have for mamas!
My crazy talented friend Alex from Prairie Letter Shop created the Daily Lettering Journal Scripture Edition for women who love to letter (or want to learn to letter!) AND want to spend time in the Word. She's so generously giving a journal and her favorite brush lettering pen as part of this giveaway. The journal includes basic lettering tutorials and pages of practice words organized by category, all related to Scripture. It also has twenty devotional sessions, each featuring a verse or set of verses, a short commentary, an example hand-lettered composition and a full page of space for response. I seriously love this journal and I know you will too!
When I first found out about Only Love Today (*affiliate link) from Rachel Macy Stafford I knew it was something that I wanted to get my hands on. I must say that this book has been such a game changer for me as a mama. The book is based around the four seasons and provides beautiful encouragement and inspiration to live more intentionally and connected. I love that the entries are short and actionable which is perfect for a busy mama. You are seriously going to love this book!
What screams SUMMER more than ice cream?! If you have never had Jeni's Splendid Ice Cream before you are seriously missing out. They have the most amazing gourmet flavors and don't use synthetic flavorings, dyes, or off-the-shelf mixes. Jeni's ice cream is smooth, delicious and the BEST summer treat. If you win the giveaway we'll be sending you a pint of your choice right to your door. It'll be our little secret if you decide not to share with anyone and have it all yourself. My favorite is Brown Butter Almond Brittle. Yum! What flavor are you dying to try?
What do you think?
Would you like to win all of these amazing prizes?!
a Rafflecopter giveaway

This giveaway is open to U.S. residents only (apologies to my sweet international readers!). The giveaway will end at 12:00 am on Monday, May 29 (EST). A winner will be selected shortly after and notified by e-mail. If winner does not respond within 24 hours, a second winner will be chosen. Thank you for being a part of this fun giveaway!
I can't wait to see who wins! Make sure to HOP to the other blogs and make some new, inspiring friends!
**Click the links below to learn more about these amazing bloggers!**